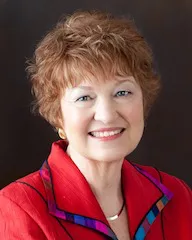 Real Estate according to Jacki
At 16, I obtained my driver's license in Bucks County, PA and promptly started driving to Sunday open houses in new developments near my parents' home. Little did I realize that my future career would involve helping people buy and sell homes.
In 1970, I moved to State College with my husband who had graduated from Penn State. He thought he died and went to heaven when he got a position teaching at the local high school. I was not an alumna, so I was not so enamored with this little town in the "middle of nowhere." After substitute teaching junior high music, I obtained my M.Ed. in Counselor Education in 1975. Jobs were scarce, but I had two young children and decided to give real estate a try until a "real job" came along. The year was 1980, and it didn't take long for me to realize this was my "real job" because I loved it. After getting myself established in the business, I took the required classes and passed the test for my Broker's license. (By the way, the test to obtain my broker's license was the toughest test I have ever taken!)
In the 37 years I have been listing and selling real estate, I have grown to understand that my clients' needs usually involve more than buying or selling a home. Life situations that influence the purchase or sale of a home will be as important as the actual real estate outcome. It is my job to make sure that I understand those situations well enough to accomplish the goals of my clients, whether it's selling a home so they can move on to another town, or finding the perfect home with additional space for an aging parent.
So…who knew I would be spending my entire adult life in this little town in the middle of nowhere? I'm still here, loving this little town and the people I have come to know through my real estate work and the many activities in which I have become involved. Everyone knows about football, and there's no denying that the entire town is happier when Penn State wins—especially at home! But there is so much more—classical, jazz and folk music, several community theatre companies, art classes, hiking, boating, swimming, biking, bird watching, wildlife classes and snow skiing just 15 minutes from campus—you name it, it's here. But wait, there's more! You can see big name acts at the Bryce Jordan Center on campus—everything from Breaking Benjamin to Paul McCartney! I love bragging about my town, which just happens to be next to a world class university!
And here's the best part. In 2002, I brought a young man into the real estate business. Brian Rater had been in the commercial insurance industry, but was interested in becoming a real estate agent. I trained him as my buyer agent, and he worked for me until 2005 when he went out on his own. In 2014, we became business partners to better serve all of our clients while continuing to maintain our own client base. I love to tell Brian that I taught him everything he knows, but in truth, he has brought so much to the table with his charming personality, his work ethic, and common sense wisdom. I cannot imagine the business without him. Together, we serve our clients at the highest level possible.