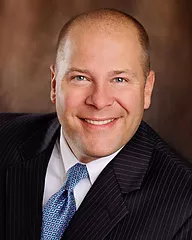 It was 1983, and I was taken to the field with a tractor and hay baler in tow. Just 15 minutes after my dad dropped me off, I had an equipment breakdown. Two hours later when he returned to pick me up, assuming I had finished baling hay, he was distressed to find out that the reason I had not finished the job was because I couldn't figure out how to fix the hay baler. That was the day I knew I wasn't going to be a farmer. I still take my car to the shop for the simplest thing. However, I grew up on a farm, surrounded by a large farming community, so when it came time to choose a major at Virginia Tech, I chose Ag Econ. I still don't know what I was thinking with that choice, but after graduation, my first career started in the commercial insurance industry.
After 12 years in the insurance business, I was offered an opportunity to learn the real estate business from a seasoned agent who was interested in teaching someone the business in return for that person working as a buyer agent for her for 3 years. It was the right time and place for me to make the switch from insurance to real estate, so I did, and I have never looked back.
Living in a college town, most people who are buying or selling real estate have a connection to Penn State. Knowing the ropes for the special needs of academics has become important in my business practice—everything from which banks will finance and close on a home prior to the first paycheck, to recommendations of contractors, cleaners and anything else that will make moving and adjusting to life in State College easier.
My family of four moved to State College in 2002 and grew to a family of five in 2005. Raising three daughters in this town can be exhausting—so many activities, so many opportunities, so many everything! But it is exciting as well. Sharing all the possibilities with incoming folks is one of the things I enjoy most as we search for the right home.
Being a part of the community of State College is an important part of my life here. My wife is an attorney in a well-known firm, and together, we embrace the town. Living among people from all over the world, experiencing the diversity of cultures and the ensuing perspectives, is uniquely special in college towns. Although large cities may have such diversity, the smallness of our college town brings it all closer to everyone.
The phrase "two are better than one" defines my relationship with my business partner, Jacki Hunt. Our partnership balances our individual strengths in perfect harmony, creating superior service for all our clients. In today's time, sensitive business culture, our business model allows efficient use of resources, as well as providing perspectives necessary to meet the challenge of today's real estate market.
From the early days when Jacki introduced me to the real estate business as that "seasoned agent", I have always appreciated her voice. It is Jacki's voice that offers much insight and intelligence as well as a practical thought process that serves both the individual and general real estate industry with an ongoing passion. Jacki brings an element of complete honesty and humor about life, both on and off the field. I feel honored to find myself in such good company.